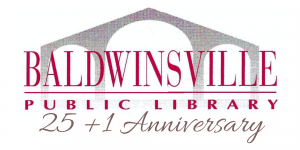 The COVID Memories Project highlights the resilience of our community at a time of great stress. During the pandemic, the library has changed and endured. Our anniversary gives us a chance to really see how far we've come. Interspersed in our timeline is the creativity of our community during COVID.  Also see below for images from the beginning of  our current building.
Click on the thumbnail for a larger image.
October 29, 1995: An exciting day as over 2,500 people participated in the Grand Opening of the new library at 33 East Genesee Street.
Summer 2019 – Shutdown! Hackers take over our catalog.
March 2020 – Shutdown! COVID is spreading. We close our doors.
Meanwhile … the Plank Road Quilt Guild was working on spectacular quilts.
May 18, 2020 – Staff are back! They are trained in safety protocols.
Meanwhile, Barb S. was working on her beautiful knitting and crocheting while 10th grader, Mikey, continued to stay fit. Carolyn A. wrote about her grandparents while Kathy W. wrote poetry.
Sharon H. was creating spectacular pencil drawings.
May 26, 2020 – We open for curbside delivery only!
Meanwhile … our children and young adult librarians were distributing Make and Take crafts while the cardmaking group continued online.
Martha L. took her camera outside to produce memorable photos.
July 6, 2020 – We are open again!
Meanwhile, Joy G. was stringing awesome beads.
And the Canton Woods Art Program created works of art over Zoom and at their Gazebo.
15 months later …
May 25, 2021 – Parking lot renovation with an elegy to our tents.
16 months later …
October 2021
We're still here. We're still open.
25+1 Years
Also we are celebrating 25 + years at our current building. Check out our amazing history displayed at the library.